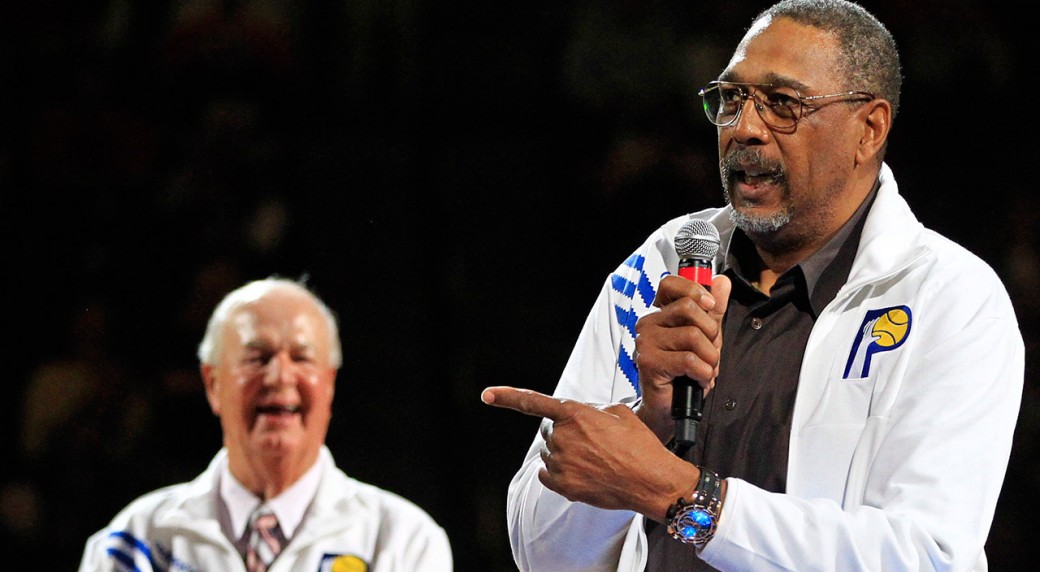 Pro Basketball Hall of Famer – Community Leader – Mentor – Devoted Husband & Father – Loyal Friend….. Since Mel Daniels' passing Friday, October 30th, all those whose lives were touched by the 6'9" former center have showered their love and appreciation in a manner that should only be expected for such a wonderful man. Mel was celebrated for his raw toughness on the court, and deeply loved for the unwavering passion and commitment he had for those fortunate enough to have been in his large circle of family and friends. As a longtime supporter and champion of his peers in the American Basketball Association, and so many others in his community, he will be greatly missed.
Mel was a man who put duty, and the interests and needs of others before himself. His longtime ABA coach and fellow Hall of Famer Bobby "Slick" Leonard has often been quoted saying Mel gave everything he had when he was between the lines for his team. The same can be said of Mel in all aspects of his life. It's no wonder Mel was the team captain of our Dropping Dimes Foundation family, and an extremely active member of the advisory board. Even in his 2012 introduction into the Naismith Basketball Hall of Fame, Mel spoke out in support of all the other ABA greats he played with and against. He consistently touted the importance of recognizing the talent and achievements of the players and coaches from around the American Basketball Association, and what they did for the game of basketball. In the video below from the Basketball Hall of Fame, you can watch Mel's acceptance speech:
[su_spacer size="25″]
[su_spacer size="25″]
On the court, Mel was known for his ferocious play. He was a true big-man, even at only 6'9", something rarely seen in today's professional basketball game. Posting up, back to the basket, he ignited the crowd by dunking over opponents. Mel did not succeed because he was tall, or simply because of his natural talent; he absolutely earned his recognition and success. A work-horse for his team, he was honored with the ABA's first Rookie of the Year Award in 1968, when he played for the Minnesota Muskies, contributing an average of 22.2 points and 15.6 rebounds a game.
He wouldn't stop there, however. As an Indiana Pacer, Mel was a pivotal cog in the team's drive to win league championships in 1970, 1972 and 1973. In 1969 and 1971, the American Basketball Association named Mel the Most Valuable Player. Check out the clip below where Mel scored 19 points (an average game for him) in the 1973 American Basketball Association's Final against the Kentucky Colonels, who themselves featured 3 future Hall of Famers — Artis Gilmore, Dan Issel and Louis Dampier:
[su_spacer size="25″]
[su_spacer size="25″]
The league's all-time leading rebounder, Mel was also named a five-time all-ABA team member and was a seven-time All-Star. He was revered by his teammates and fans, and intimidating to his opponents. As a player, his contemporaries, such as Julius "Dr. J" Erving, have spoken out with great respect as to Mel's work ethic and tenacity. Later, as a coach, he continued to shape the game, including at Indiana State where he coached a young forward from French Lick, Indiana – Larry Bird. After coaching, his commitment to the Indiana Pacers continued throughout his life, serving as an assistant coach, Director of Player Personnel, and scout for many years. Check out the NBA's collection of memorable highlights from Mel's career, along with insights from various basketball stars on what kind of player and person Mel was:
[su_spacer size="25″]
[su_spacer size="25″]
In his final years, the Dropping Dimes Foundation was extremely honored to have Mel leading the charge in helping former American Basketball Association players, coaches, and families who have become disadvantaged and are falling on hard times. Mel was surrounded by many of his former teammates and ABA peers in Dropping Dimes Foundation initiatives, including one memorable event when Mel and former teammate Bob Netolicky reflected on a particular time when Mel got into a "fight" with Wilt Chamberlain:
[su_spacer size="25″]
[su_spacer size="25″]
Most recently, Mel demonstrated once again the personal integrity and kindness he brought to the world through a very simple but very significant act of kindness for former ABA Pacer player Charlie Jordan. Jordan, who has been battling a series of medical complications, had one wish: a new suit so he could go to church. At 6'8", the 61 year old was unable to find an affordable solution, so Mel spearheaded a Dropping Dimes Foundation "assist" to help Jordan get a new tailored suit.
Mel was truly beloved by everyone around him. Mel was so many things to so many people. It was his relentless commitment to living life to fullest that made him so successful, respected, and most importantly loved. We should all aspire to his unyielding drive to serve others less fortunate than himself. Mel once told us that he believed when a person is born blessed, particularly blessed with good health, size and strength, it is absolutely incumbent upon that person to help those smaller, weaker or less healthy. In a world where the news is too often filled with stories of people making the opposite choice, we hope Mel's courage, wisdom, strength and kindness will be carried on by those who have been touched by him, directly and indirectly.
Mel, you will be deeply and forever missed.
[su_spacer size="25″]
##
https://droppingdimes.org/wp-content/uploads/2015/11/daniels_mel-1040x572.jpg
572
1040
DrpDimes
https://droppingdimes.org/wp-content/uploads/2016/09/dropping-dimes-logo.png
DrpDimes
2015-11-05 08:04:33
2016-10-10 23:37:06
Remembering Mel Daniels