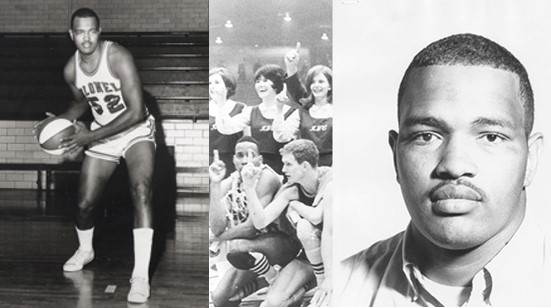 Via KWC Panthers – Jim Mashek
After his collegiate career at Kentucky Wesleyan College, Sam Smith played five years in the American Basketball Association, including three with the Kentucky Colonels. He won a league championship in his final ABA season, with the Utah Stars.
Before the ABA, Kentucky Wesleyan College basketball voice Joel Utley remembers the move. Or better yet, the strategy.
KWC needed nothing short of a miracle to stay alive in the NCAA Division II tournament in Durham, North Carolina. The Panthers were facing a talented South Carolina State squad in a first-round game, on the campus of North Carolina Central University.
KWC trailed South Carolina State by three points in the final seconds of regulation, and the Panthers' George Tinsley was instructed to make the first of two free throws, only to miss the second. Sam Smith, the 6-foot-7, 230-pound KWC center, was listening to his coach, Guy Strong, as the Panthers broke the huddle.
"You could always count on Sam," Utley said.  Strong certainly could, and so, too, can the Kentucky Wesleyan community.
To honor Smith the Dropping Dimes Foundation took over logistical issues so the 72-year-old Smith and his wife, Helen could both attend Saturday's celebration of the 1966 KWC national championship squad, along with the induction of the 2016 KWC Athletic Hall of Fame class at the Convention Center.
Strong remembers Smith's sheer strength, when he converted Tinsley's missed free throw into the tying points against South Carolina State. The Panthers took control in overtime, winning 81-73.
"I just said to Sam, 'On the second one, just tip it in,' " Strong recalled. "I'm not a prophet, but with Sam, it was almost like it was meant to be."
Find out more about Sam Smith HERE.
##
https://droppingdimes.org/wp-content/uploads/2016/05/sam-smith-collage.jpg
308
551
DrpDimes
https://droppingdimes.org/wp-content/uploads/2016/09/dropping-dimes-logo.png
DrpDimes
2016-05-20 09:29:49
2016-10-10 23:15:34
Mr. Smith Goes to Owensboro