50th ABA Anniversary Celebration
Join us in celebrating the American Basketball Association.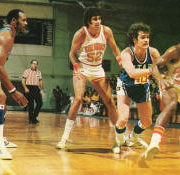 50th ABA Anniversary Celebration  
with emcee Bob Costas
Bankers Life Fieldhouse :: 
April 7, 2018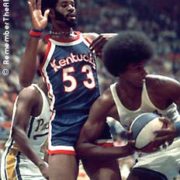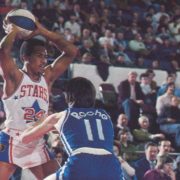 Join the entire ABA family on April 7, 2018 at the Bankers Life Fieldhouse in Indianapolis, Indiana. The night will be be filled with camaraderie and shared memories. Attendees will join players over dinner to discuss the league, basketball and their favorite moments from the ABA.
From Spencer Haywood to George McGinnis, Louis Dampier to Artis Gilmore, and more, the night will be filled with legends from all over the league.
In addition to dinner, those in attendance will be able to partake in a moderated Q&A with basketball legends and hall of famers, led by Bob Costas—whose broadcasting debut was as a commentator for the ABA's Spirit of St. Louis.
Purchase a table today!
Enjoy an evening of great food, amazing stories and reminiscing about one of the greatest professional leagues ever. Rub shoulders with the greats of the game, George "The Iceman" Gervin, George "Big Mac" McGinnis, Julius "Dr. J" Erving, Rick Barry and many many more! Emceed by sportscasting legend Bob Costas.