By Joe Dynlacht
Whether you collect baseball, football, hockey or basketball cards, the thought of creating your own card set has danced through your mind.  Just admit it!  But then, reality sets in as you wonder how you would actually pull off this feat. Maybe you fancy that you can do a better job at populating the backs of cards with text and stats than Company X, Y or Z.  Maybe you have artistic tendencies and can design some gorgeous card fronts.  Maybe you have access to the machinery and expertise to print the card sheets, and cut, collate and box them for delivery.  And maybe you have the connections to players so you can include an autographed card in your set.  You know it will take an investment of time and money.  But if you can't pull off most of the other things I've mentioned (or are not motivated to get the help that you'd need), then more likely than not, the dream of producing your own card set will simply die on the vine.  However, Scott Tarter had some extra motivation to make a trading card set memorializing the inaugural year of the American Basketball Association (ABA).  He decided a few years ago that even though the venture would take a village, he'd hunker down and try to put the pieces into place.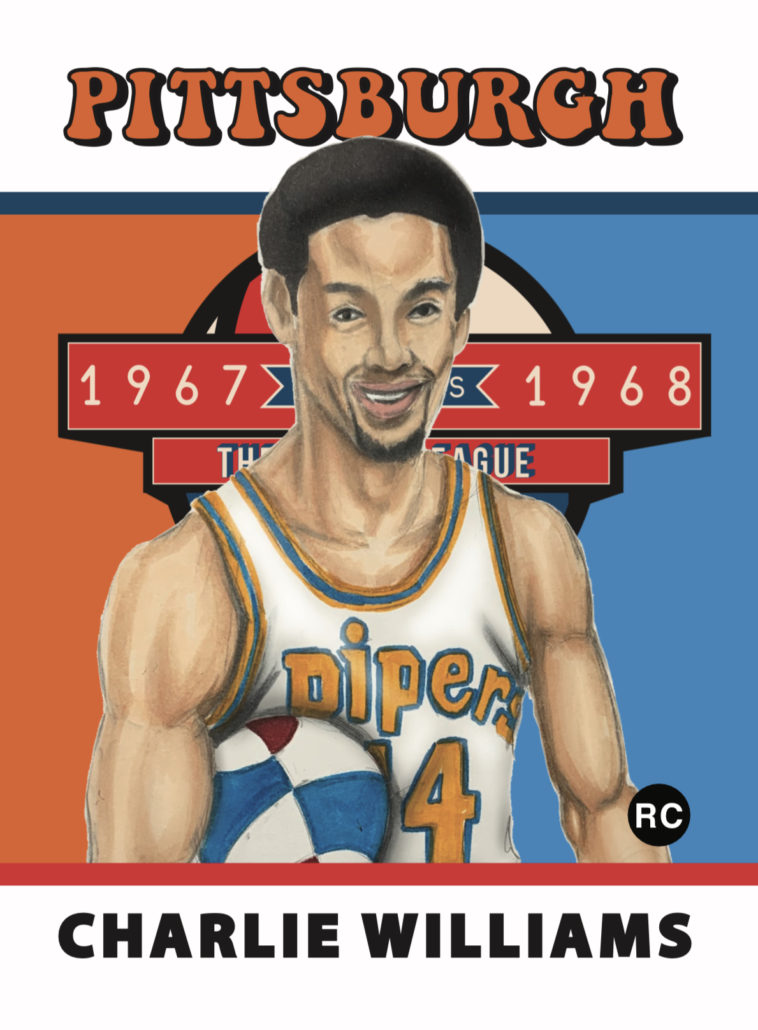 Living the Dream While Trying to Help Others
Many SCD readers who collect memorabilia, cards, and autographs associated with the ABA may recognize Scott's name. He is the CEO of the Dropping Dimes Foundation, a charity he co-founded in 2014 with Dr. John Abrams to raise money to provide assistance to members of the ABA family who are experiencing financial or medical hardship.  Abrams and Tarter recognized that many former ABA players, as well as team and league personnel and their families, were in need of assistance to meet day-to-day needs because they do not receive an NBA pension, nor were they eligible to receive any other benefits from the NBA.  Only four ABA teams were absorbed by the NBA after the ABA merged into the NBA just before the 1976-77 season – the Indiana Pacers, San Antonio Spurs, New York (now Brooklyn) Nets and the Denver Nuggets. Most ABA players did not receive pension benefits from the NBA after the merger, because they either never played in the NBA or didn't play in the league long enough.  Thus, the Dropping Dimes Foundation was created to raise money to provide support to ABA players and families experiencing hardship during their later years in life.  
According to Tarter, when the Dropping Dimes Foundation would go out to meet with former ABA players in need of assistance, "our calling card quickly became to also provide a blown-up canvas version of the player's ABA trading card. But we started to realize we were helping a lot of guys who never had their own card, and this started happening more frequently.  I thought that it's a shame nobody ever made cards of these guys from such a legendary league, especially the pioneers. They deserve that."  Even when Topps first started producing trading cards of ABA players in 1971, they only made cards of about 5 or 6 players per team. As a result, most of the guys who played in a league that only lasted from 1967 to 1976 never had their own card.  No cards at all were done during the first four years of the ABA's existence. So most of the ABA's early pioneers never had a card. As the memories of that magical and historically important league start to fade, opportunities to uncover important facts about the players and the league, and to acknowledge the critical contributions these legends made to pro basketball while many are still living, are also diminishing.
In April of 2018, the Dropping Dimes Foundation organized and presented the 50th anniversary ABA reunion celebration in Indianapolis, an event that turned out to be its biggest fundraiser to date.  One hundred fifteen (115) former ABA players plus many former coaches, media and team staff members were in attendance. Players signed autographs on special commemorative pennants and basketballs (red, white and blue, of course) during an afternoon fan-fest at Butler University's Hinkle Fieldhouse, and then attended a dinner and Q&A session that night at Banker's Life Fieldhouse, an entertaining event moderated by sportscaster and Dropping Dimes Advisory Board member Bob Costas. While the reunion was a great success, the Foundation's Board (Tarter, Abrams, and film producer Ted Green, who produced the highly acclaimed and ABA-related PBS documentaries "Undefeated – the Roger Brown Story" and Bobby "Slick Leonard – Heart of a Hoosier", are always on the lookout for additional sources of revenue to fund much-needed assistance efforts.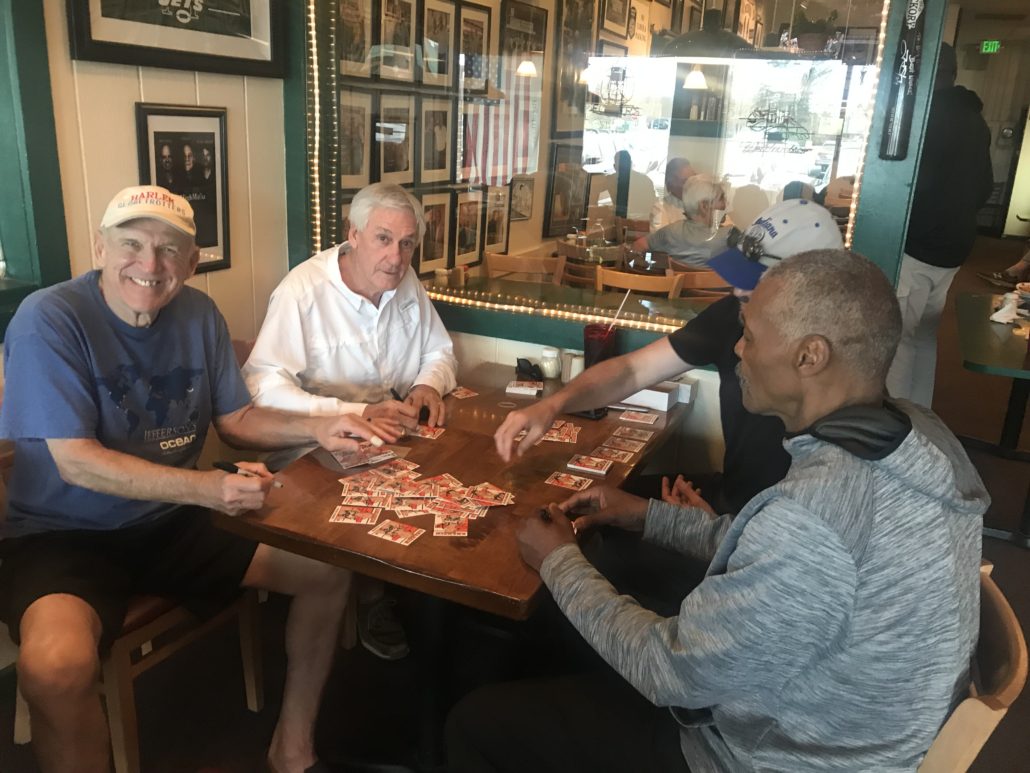 The idea of creating and selling a high-quality ABA card set to raise awareness of the ABA and to raise additional funds for the Foundation had been percolating in Tarter's head for some time, even before the reunion took place.  However, he and his fellow board members did not want to use precious donated funds to take any risk of producing trading cards, so it needed a separate effort.  Tarter was up for it, but recalls, "I knew it would take several years to get the project off the ground and completed."  He knew he'd need to secure the services of at least a graphic designer, an artist, and an experienced printer.  He also knew the venture could only be made possible with a substantial personal investment of both money and time. It would involve a lot of traveling.  But he would also make a lot of new friends and hear some amazing first-hand stories from many ABA players.
The Brainstorming Begins
Once Tarter decided to move forward with his idea of creating a card set, the conceptualizing began. He wanted to be creative, but he also realized that he'd have no choice but to design the cards as unique artistic renderings in order to avoid potential photographic copyright issues. He would also need to design around any potential trademark issues.   
Tarter felt that for the players' sake and the sake of history, every 1st year ABA player should have a card (a concept that no card company during the ABA era had ever embraced).  Also, the set should involve high-quality card stock and printing, and come in a heavy-duty box worthy of housing a special limited collector's edition card set. And he wanted to make sure every living ABA player would receive his own complementary "player-only" set that would not be reproduced commercially or sold to the general public. He founded a company to do the job and named it Lana Sports (after his deceased "wonderfully eccentric" mother).  Then he committed to taking the novel approach of featuring every first-year player who played during the inaugural ("rookie") ABA season of 1967-68; this would require a tremendous time commitment for researching player stats and facts, and a financial commitment in terms of production costs.
A total of 159 men met the criterion of seeing playing time during the first ABA season, but the set grew to 160 cards with the inclusion of Les Powell, a player who was drafted out of Utah State to play that year but never had a chance to suit up. Powell was drafted and signed by the Anaheim Amigos in 1967 but was drafted by Uncle Sam the day he signed his playing contract.  Sadly, Powell was killed in action in Vietnam before he could log a single minute of game action. The back of each card in the set (except for Powell's) contains interesting and little known facts about every player, along with his statistics from the first ABA season. Powell's card includes "fantasy stats," based on projections that assume he had played that entire season.  On the front of Powell's card is a depiction of his Purple Heart medal, and on the back are depictions of his U.S. and Vietnamese service medals.
Tarter wanted the set to be accepted by the hobby as comprising the "true rookie cards" of all first-year ABA players, and as an authentic collectible trading card set just like any other. So, the cards would need to be of high quality, and included with each set would also be 5 parallel cards numbered to 50 or less and an especially rare autographed card signed by a player who made his debut during the 1967-68 ABA season. Moreover, he wanted some boxes to contain an ultra-rare autographed rookie card of the ABA's all-time leading scorer, Hall of Famer Louie Dampier (see inset for a list of autograph cards).             
Makin' Some Cards
In addition to determining the composition of the set, creating the design of the cards (including parallels and autographed cards) and box, and researching player information and stats, Tarter had to find a graphic designer and a talented artist.  Fortunately, he made some great connections. Shane Young, a local Indianapolis artist, was engaged to hand-sketch and color all 159 first year ABA players and Les Powell.  Young would later also participate in the 50th ABA Reunion celebration, donating a beautiful "Dr. J" Julius Erving painting for auction during the reunion dinner. Tarter worked with Young for many evenings around his day job as an attorney during the first 18 months of the project, directing him on the layout and design aspects for the artistic renderings, familiarizing him with the players, and making sure the artistic renderings paid homage to the era but were created to avoid potential trademark and copyright issues.
Although Young was able to reference several photographs of each player taken during their playing days (located and provided to him by Tarter), he was instructed to draw each player using his own unique pose and style.  Importantly, the renderings would not be based on any particular existing photo. This led to somewhat of a caricature-like style for some of the player renderings, but Tarter liked the fact that some important vintage trading card sets (like some of the Goudey baseball sets of the 1930's) included player caricatures or drawings, and he also knew many ABA programs and league promotions involved artistic renderings of players that were "let's just say…..somewhat less than life-like."  He recognized the "quirkiness" of the ABA, and he wanted the set to pay homage to the 1960's and 70's when the league was in its heyday.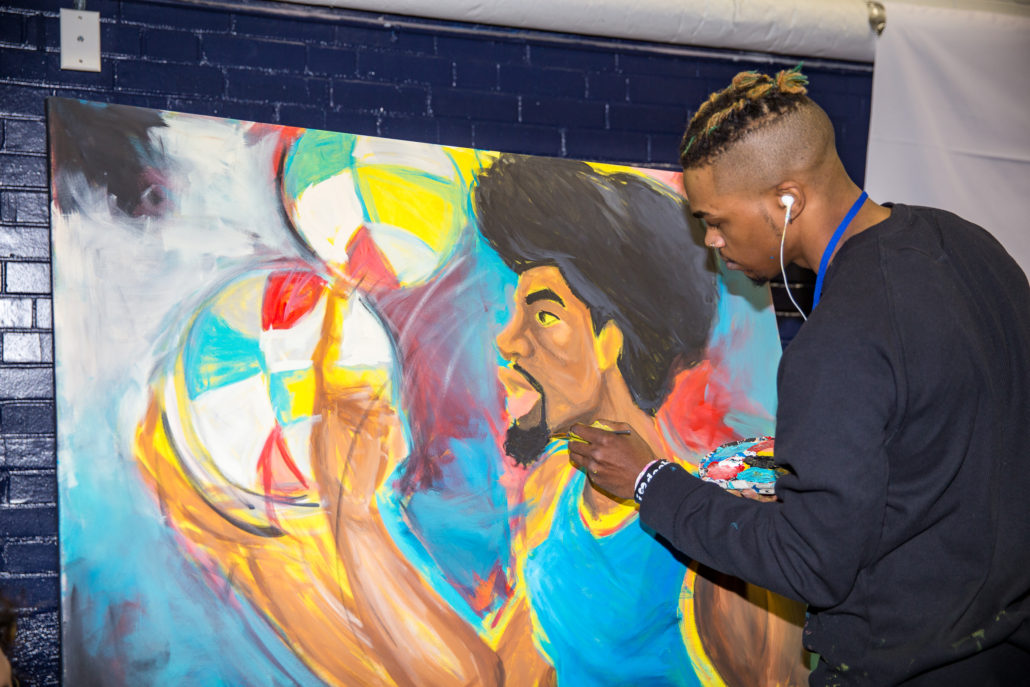 Tarter designed his own "Lively League" logo, and avoided using trademarked team names by simply using the city and state of the team, as well as the team colors.  Tarter reckons he had personal meetings or telephone discussions with around 80% of the living 1st year ABA players, and received overwhelming support from all the players for the production of the cards. Many of the players offered to provide testimonials or to help support sales of the card sets, as they knew it was for a good cause.  But Tarter provided even more incentive by promising each living player a free set of cards made exclusively for 1st year ABA players. Those sets are specially marked "Exclusive Player Set – Not for Retail Sale,"  but do not contain parallel or autographed cards since the players communicated to Tarter that those features weren't important to them;  they really just wanted to have their own cards and the base cards of their colleagues from that first year of the league. Any player who asked for extra cards of himself for family and friends (or fans) would be given extra cards as well.
The card backs are composed of the player's name, personal information, and team, the Lively League logo, the player's first year ABA stats and fascinating career facts (researched and written by Tarter). Tarter contacted basketballreference.com and received permission to use stats obtained from them, and he provided appropriate credit to them on the boxes housing the sets. He also researched newspaper accounts of the games, conducted research on Arthur Hundhausen's website "remembertheaba.com," poured over original game programs and stat sheets, and interviewed players, so that he could put together what he hoped would be one of the most comprehensive sources for first-year ABA information;  it remains his hope that the set will become a resource in and of itself for basketball history buffs. 
Finishing Touches
Several additional production decisions had to be made, such as whether to go with thinner card stock to save money or thicker stock that is more common with standard-issue trading cards. Tarter opted for the standard thicker stock, and also opted to use high-quality matte laminate coating on the cards. He enlisted the expertise of Garlich Printing located just outside of St. Louis, MO to do the critical printing, sheet cutting, set assembly and packaging, and random third party insertion of parallel cards and autographed cards. "Garlich Printing was chosen because of the experience they had with producing hig-quality trading cards, including cards produced for MLB promotions," said Tarter.  
After the cards were printed, Tarter visited with all of the players who had agreed to provide autographs, so he could personally witness the signings (each set contains a certificate signed by Tarter that certifies each autograph was obtained directly from the player by Lana Sports). In order to pull that off, Tarter made several trips (with new Sharpies in hand) to the Los Angeles and San Diego areas, Denver, New York, Atlanta and several locations in Indiana and Kentucky.  Said Tarter, "I flew or drove around the country for 18 months getting in-person autographs from so many different 1st year ABA players and it was such an incredible experience. I got to hear amazing first-hand stories about their playing days. And most of them had never had a trading card before so they were so excited to see their card and to be remembered. The autographed cards in this set are so rare, given they're the only cards in existence for most of these living legends, and even in the case of players who had cards in later years, these are now the true rookie cards for those players as well."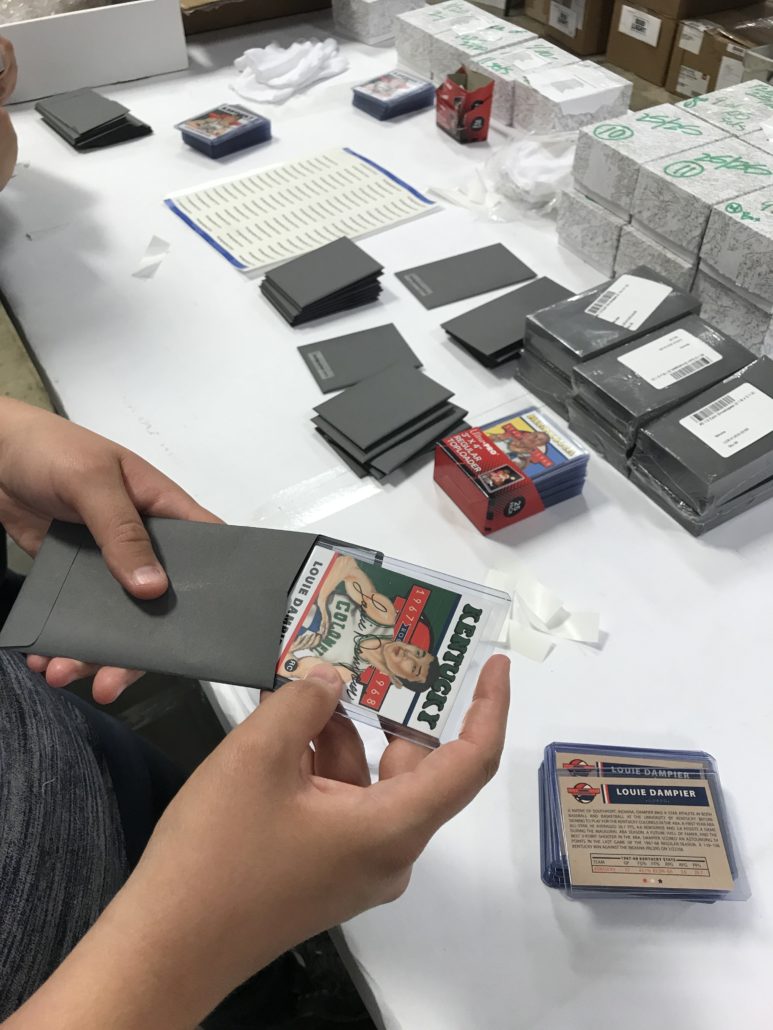 When the cards were all printed and cut, and all on-card autographs were obtained, Garlich provided the third party packaging, card randomization and other aspects of production. The parallel card and autographed card randomization and insertion were critical to Tarter as a collector himself.  "I didn't want to be present when autographed and parallel cards were randomly inserted into the sets, so it was really important for me to put the randomization process into the hands of a qualified third party. I purchased the first set myself and I had absolutely no idea which autographed card would be inside that set. I needed for other collectors to know they can trust the authenticity of the process."  What Tarter did do himself was carefully inspect each autograph for quality before gently placing each one into soft sleeves and top-loaders and hand-delivering all of them to the printer.  "As a fellow collector, I wanted each autographed card to be in beautiful shape when opened.  If an autograph was smudged even slightly, or a card even slightly damaged, it didn't go in the set.  I really wanted the autographed cards to be handled by someone who cares a lot about the condition, and didn't mind the extra time and cost of placing each of those cards into top-loaders for extra protection."
Only 750 limited-edition sets were produced for retail sale. The 160-card base set, along with 5 parallel cards numbered to 50 or less, and an autographed insert card (166 cards total) are packaged in handsome, colorful and sturdy collector boxes, each individually numbered to 750. The original ABA Player's Association logo adorns the outside of the box. Tarter says he did that to commemorate the amazing brotherhood that still exists among ABA players, and the incredible player support he received for the production of the cards. The retail price of the limited-run set is $249. Word is just starting to get out about the existence of the set so here's a word to the wise: If you want one, you better act fast!
Collectors interested in obtaining this novel and historically important limited-edition set of ABA cards, and fans interested in commemorating the inaugural season of the ABA while supporting a great cause, can purchase the "Lively League" (1967-1968) ABA Rookie Card Set directly at www.lanasports.com.  In Indianapolis only, a local card shop "Indy Card Exchange," is selling the sets retail.  The card shop owner, Andy Albert, himself a long-time supporter of the Dropping Dimes Foundation, served as a consultant during the production of the card set, and provided valuable information on card specifications and design.  Said Albert, "It was so much fun helping Scott design (and advise him on some of the intricacies of) the set.  He has taken this project on as a labor of love for several years now, and to see it all completed is exciting for us as a shop, and as a collector.  Any collector of vintage basketball cards and/or ABA cards needs to own one of these sets…to say they own a piece of ABA history.  There was a lot of sweat equity placed into each and every base card, autograph, and parallel card placed in every box.  Scott and his team did an incredible job."  
While Tarter is hoping to first recoup the expenses for producing and marketing the set, Lana Sports will donate profits to the Dropping Dimes Foundation (www.droppingdimes.org), to help the organization continue to support former ABA players in need of medical and/or financial assistance. I asked Tarter if he was planning to create a follow-up set, and quite understandably, he was undecided.  "Putting this set together was an amazing experience, and maybe in the future I'd consider producing a follow-up set for subsequent ABA years, but it was a beast in terms of time consumption so I plan to take a breath and grab some pine for a while after this.  However, Lana Sports will be making an announcement soon about the availability of another iconic ABA product that vintage basketball fans are going to love."  So if you are a vintage or ABA basketball fan, keep an eye out!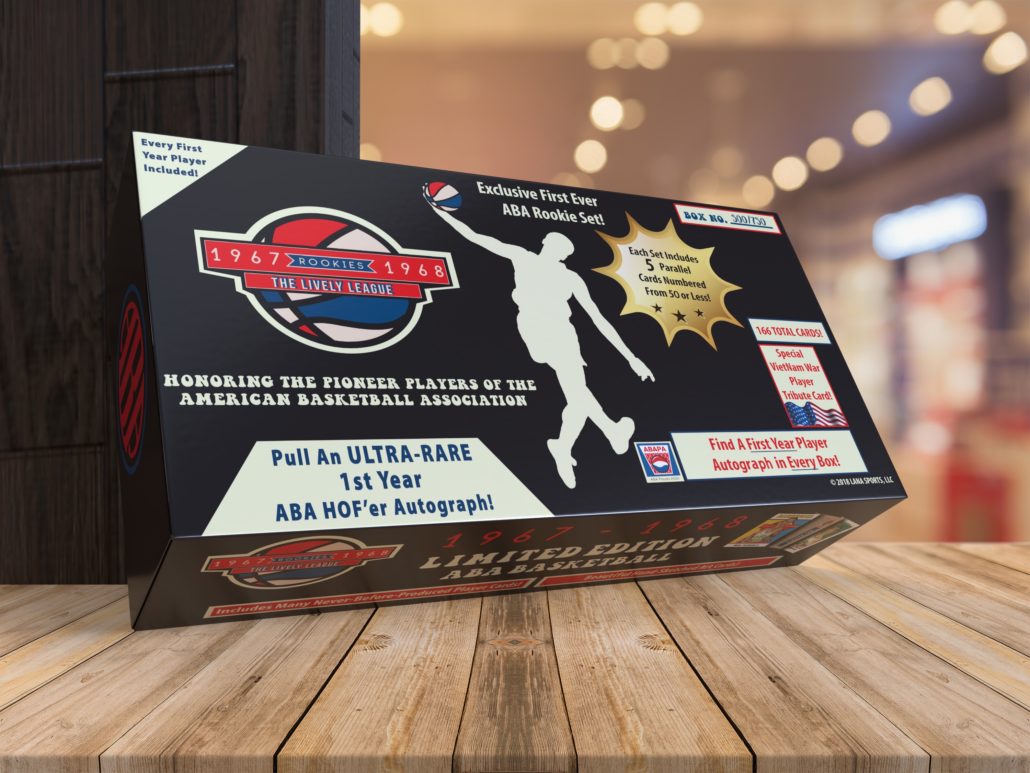 https://droppingdimes.org/wp-content/uploads/2020/02/552C5B46-DEB3-4203-A89C-B15C2A664868.jpg
2048
2048
DrpDimes
https://droppingdimes.org/wp-content/uploads/2016/09/dropping-dimes-logo.png
DrpDimes
2020-02-10 09:04:32
2021-01-18 12:53:46
Labor of Love: Fellow Sports Memorabilia Collector Creates a Card Set to Give Back to former ABA Players in Need